This has been the most inspiring and fun photography week that I've had in a while! I've been getting outside and trying new things as I photograph nature. If you have a minute and haven't already seen my last post, I'd love to have you read about the fun I had shooting Nature and Water Abstracts. I mentioned in that post that Kat at Kat Eye Studio had been one of the inspirations for the project. She has been using her iPhone apps to creative images with artistic blur. In this month's Exploring With A Camera she has challenged us to shoot blurry photos. You read that right, blurry!! Blurry is not always bad, it can lead to some amazing photos. It's like painting with a camera.
There are several ways to achieve blur; looking through something, out of focus shots, camera movement, or reflections. All of these photos are pretty much straight out of the camera. I did adjust the contrast a little and did some cropping. Next month Kat is going to show us how to use some post-editing to achieve artist blur.
I thought it would be fun to try several of Kat's suggestions. I started with LOOKING THROUGH something. I found there are lots of ways to do this.
This image was taken looking through water. The white squiggly lines are the sun's reflection.
Looking through fog creates a mysterious blur.
I even taped a piece of plastic over the lens and took this picture of silk flowers. I liked the soft look it gave them!
This one is one of my favorites. I'll try to explain how I took it. I am looking through the blades of a whirling windmill. I overexposed this to get the washed out look. I was quite surprised at the image it created.
Next, I tried taking a photo slightly out of focus.
This was the hardest one to create! It was hard to not cross the line and be too out of focus or look like a blurry mistake! I do like all the pretty bokeh it created!
Long shutter speeds and camera movement is also another way to get blur, but it's a little tricky, too. Too little movement and it just looks like a bad photo; too much and it's a mess.
On this one I tried to focus on the gumball and slightly rotate the camera. I never got the image I wanted. I wanted the gumball a little more in focus, but I just couldn't get it!
,
One evening this week we had the most gorgeous sunset. The lower part of the sky looked like it was on fire! To obtain the blur, I barely moved the camera in an up motion.
I used the same procedure here only I moved the camera slightly to the right. I was surprised when I ran across this dandelion blooming in the middle of winter!
And lastly, reflections in water make beautiful artistic blur.
I focused on the reflection, leaving real life completely out of the picture. I rotated this image, it's actually upside down.
It was a fun learning experience and one I'll be repeating more often. I'm a little addicted to this!!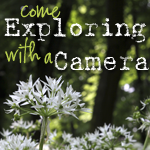 There's still plenty of time for you hop over to Kat's blog, read her artistic blur post, grab your camera, and give it a try. If you do, please be sure to link up to her post so we all can enjoy your images!