I often wish that I lived in an area where signs were prohibited. I could just enjoy the beauty of our world without the view being obstructed by signs. They're like power lines that are so annoying when they get in our photographs!! I'm resigned to the fact that we would be "lost" without signs to guide the way and give us information.
One of the definitions of a sign is "a display (as a lettered board or a configuration of neon tubing) used to identify or advertise a place of business or a product"
This sign advertises the Royal Theater in downtown Benton, Arkansas which has been in constant operation since the 1920's. In the 1950's, the owners acquired this neon sign.
Signs can tell you where you are and give your interesting information. I especially love to read the history of old buildings.
I found this collection of signs on the side of an old building in Leslie, Arkansas. You can tell by the signs that there's only a few blocks in the business district of Leslie. The bottom sign has the whole town directory of businesses in one place!
Some of my favorite advertising signs are those painted on buildings like this Coca Cola sign that was also in Leslie. I love the texture that the bricks give to the words. The first wall sign appeared in the U.S. in 1894 - a Coca Cola advertisement painted on the Young & Mays drugstore in Cartersville, Georgia: the hometown of Coca Cola inventor Asa Chandler.
You can find signs that are inspirational or informative.
I liked this sign that I discovered on a walking trail along the Arkansas River. The message on each side is in a different language. I couldn't tell you if they were all the same message. I only read English!
Another definition of signs is "a posted command, warning, or direction"
It amazes me that we have to be told to stay off the grass and on the path!
This sign with it's command thrilled my four grandsons. We were at a train museum in Pine Bluff, Arkansas. Trust me, this old train bell rang many, many times.
The signs in this very large cemetery were low to the ground, directing you to the area you want, but not cluttering the otherwise beautiful cemetery.
First, before I show this sign, please understand that I have the deepest respect for cemeteries. They are places of beauty and reverence. This sign is near the small community of Needmore, Arkansas. I really think maybe they could have named their cemetery a little something different. I just can't help it, every time I see this sign I want to laugh. My husband says I have a weird since of humor! Do you see the humor here?
I promise this is the last sign! This sign has a story behind it. When our daughter was born in 1976, my best friend brought us dinner a few days after we came home from the hospital. She brought us roast beef sandwiches from the newly opened Arby's in Benton, Arkansas. When I drive by this sign, I think of that day and how good those sandwiches tasted to us!!
I would rather not have signs all around especially the advertising billboards along the highway! Since we can't live without them though, why not enjoy them through photography!!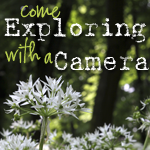 I'm linking this to Kat Eye Studio's Exploring With A Camera. Visit Kat's site and see her great sign photos and then visit others who've linked to her site.