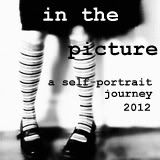 These self portraits seem to be rolling around faster and faster!! Our optional theme this month from Christy at Urban Muser was reflections. Here I am in reflection!!
classic window reflection
I was leaving the library loaded down with my purse and books when I happened to see myself as I passed this window. I managed to dig out my camera and capture my reflection, plus a beautiful sky and a cool lamppost!
classic rear view mirror reflection
computer screen reflection
Do you see me among the flowers of my desktop picture and the trees behind me?
one last computer reflection
I closed the lid of my computer and saw my reflection in the words on the top. Not much of a reflection, but I thought it made a cool photo!
my eyes are in the top letter
camera in the middle letter
and my shoulder is in the bottom letter
I'll just have to explain this shot! I have an old rusty wagon in my flower bed. In the corner a puddle of water collected after I watered. You can barely make out my shape and camera, but I'm there!
I was combing my grandson's hair when he wanted to try on my glasses. I took his picture because he was just so cute and realized that I'd capture my reflection in the mirror!!
This was fun! I did want to find more unique reflections, but, that just didn't happen. I wonder what Ashly will suggest for a theme next month!!