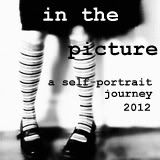 I'm still trying really hard to take my self-portraits each month. It's a little easier, I bought a remote for my camera. I'm not having to set the timer and then run to get in position!! Being in front of the camera...still not so easy! I have begun to feel more and more intimidated with the images that are posted! I'm not a free spirit, I'm shy, and self conscious. I want to be free and twirl or pose, but I only look silly! I will keep trying though.
Our theme this month was black and white. I like that, it covers a lot of blemishes!!
I went to a local park and took a few shots. I was a little brave this time! There were a few other people around. I mostly hid from them. I didn't take my tripod, that would have been too obvious. I just set my camera close by and tried to relax; pretending I didn't care if they thought I was weird!!
I took my Artful Blogging magazine to give me something to hide behind!!
I felt better not looking directly at the camera!
Another shot, same magazine, different place!!
Tried the pencil sketch feature just for fun.
This makes a total of twelve self-portraits I've posted...only forty to go!!!