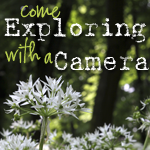 What would the world be without textures? Flat, lifeless, dull. I like to look up the definition of words, even words I know. The definition of texture is "the visual and especially tactile quality of a surface." In my words, what we can see and what we can touch on a surface is texture. Our latest exploration for
Exploring With A Camera
is to find texture. As you know, I'm a nature photographer. I like the sound of that let me say it again…I'm a nature photographer. Someone pointed that out to me just yesterday and if felt really good!!! Nature is filled with texture! That is one of the reasons I love nature photos. For this exploration, though, I decided to stray away from nature and find texture on other surfaces. Now, I did include a couple of nature shots, how could I not!!
I leave you with textures!
old rusty vehicles are a great place to find texture
weather wood, pealing paint, and interesting door handle
iron work, fabric, leather, shoestrings
I know you've seen this before,
but I wanted an example of
textures in fabrics and stitching and this is perfect.
This is my favorite, a magnolia pod.
Lots of textures here.
Just look at the textures on the stem,
the soft, fluffy pod, and the smoothness of the seeds. There's also grass and dirt.
Of course during this season I had to include a pumpkin!!