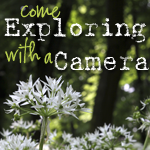 It's time again for Kat from Kat Eye Studio and her Exploring With A Camera. This month we are continuing the exploration of blur. Last month we used our camera to create the artistic blur, this month we're using post-processing. Artist Blur, as Kat states, "is, at some level, about imperfection." Imperfection, I like that. Not every image has to be absolutely 100% in focus or perfect to be beautiful. I rarely use post-processing other than adding contrast, cropping, adjusting light, and sometimes adding a very subtle vignette (blurring) around the edges. It's not that I don't like post-proccessed images. I do! I'm fascinated with the beautiful images that can be created. My style of photography is just different.
This exploration has me stretching and learning a little about using software to edit images. I have Picasa and I've used PicMonkey. Another thing that hinders my post-processing is that I only have a laptop. I'm never quite sure what the photo looks like. You know how it is, push the screen back and it gets darker, pull it forward and it lightens up. For all I know my images may be really dark or really light!
Now on to the exploration.
This image of a covered bridge in one of our city parks was taken on a fairly bright day. In post-processing, I wanted to blur the background and foreground, letting the eye focus on the bridge.
In PicMonkey I added a Kim Klassen texture "Dream It" and a PicMonkey texture "metal screen." I erased the texture on the actual bridge leaving the background and foreground blurred.
This image was taken in the fog. I once again went to PicMonkey and used a Kim Klassen texture called "painterly." I like the color it added to the background. I think it added a touch of mystery.
The blur on this flower was created in Picasa. First, I added a little contrast and color boost. Then, I used the focal zoom feature to add blur, erasing the blur on the
flower center. Lastly, I added glow and a soft vignette.
Kat has a beautiful image of trees that she showed for one of her examples using mutiple images. I just had to try this one.
I took three consecutive images a few seconds apart. The wind was blowing so the clouds and trees were moving. In Picasa I stacked the three photos on top of each other creating this image with a blurred look. I then added a little softness, darkened it a little, and added a vignette edge.
I liked stacking photos so much, I went into my archives and picked two different images and stacked those. One is of trees that I had blurred by moving my camera and the other is a shot of a sycamore seedpod.
Thanks, Kat, for another challenging, yet fun, Exploring With a Camera. I can definitely see why post-editing could get addicting.
I just read that Kat will be discontinuing her Exploring With A Camera series. While I will truly miss her explorations, I understand that sometimes changes need to be made. I cannot even begin to tell you how much these explorations have taught me! Thank you, Kat, from the bottom of my heart!

She will still be sharing her talent and knowledge on her web site and through her fantastic courses!