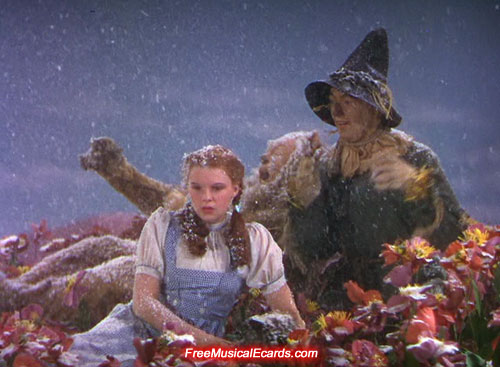 How long has it been since you watched the Wizard Of Oz? Do you remember the scene where Dorothy and her friends fall asleep in a field of poppies? Glinda, the good witch, sends snow that kills the poppies causing them to wake up? As they awaken, the cowardly lion looks around and says,
"Unusual weather we're having ain't it?"
It's interestsing how a phrase from a movie will stick in your mind and sometimes becomes a family quote. My daughter's favorite movie as a child was The Wizard Of Oz. To this day, we still say this particular line when we're having unusual weather. I've said it a lot lately!! Where is winter…I wonder. Are we just going to skip it this year??
It's amazing how many types of weather
you can have all in one week!!
beautiful blue skies one day
cold mornings that bring frost
warmer mornings that bring fog
The plants don't know what to think of this weather either!
My forsythia is blooming. Unheard of in February!!
They're an early spring flower, but not this early!!
The dandelions are already up!!
I'm really not ready for weeds yet!!
have poked out reaching for the sun.
I'm probably in the minority, a big minority, but I don't want spring to be here just yet! Winter is my favorite season and other than a slight dusting of snow in December we have had no winter!! I even bought boots to tromp around in the snow. I'm using them, but for splashing around in the wet, soggy ground!! I'm usually pretty upbeat and go with the flow, but this has been hard!! OK, so I'll look on the bright side!! It hasn't stopped me from taking pictures!! I've had great opportunities for...
shots of droplets
I still miss winter though!! :(