It's early Christmas Eve morning. I'm sitting in a dark living room with only the Christmas tree lights twinkling. It's quiet. Long gone are the days of noise and excitement as Christmas approaches. I miss those days! I wish I had slowed down, relaxed, and enjoyed them more. The years pass way too fast! Oh, but we do have some wonderful Christmas memories!! Even though there's a touch of sadness, my heart is full of Christmas joy.
Christmas music is what has filled my heart with joy. I love Christmas music. I could listen to it all year long and I just might this year. It would remind me of the feelings in my heart this morning.
I wish you could have been with me the last two days! On Saturday afternoon my dad, mom, sister and I shared a special time together at Blanchard Springs Cavern. A group of talented area musicians with their stringed instruments filled the cavern with carols.
There's is no way that you can even imagine or I can describe the sound of joyous carols being sung in the perfect acoustics of this cavern. There were no microphones, no fancy set up; just seven carolers, two guitars, one mandolin and one lap dulcimer. They moved through the big room as they sang. We could hear them just as clearly when they were yards away as when they were standing right in front of us.
We heard fun Christmas carols, a dulcimer and guitar duet, and Pachelbel's cannon played on a guitar as another gentleman read a Christmas story. I was thrilled when they sang my favorite carol The First Noel. It jubilantly rang through the cave. The most breathtaking moment was when a beautiful soloist sang "O Holy Night." Her voice was amazing, so very pure. There was not a sound in the cavern as she sang. I closed my eyes and could feel the air full of music. I wish I had the right words to describe how I felt as she held that last beautiful note. We sat is awe as she ended and her voice echoed around the room. I just can't describe it, but it filled me with joy.
I'll tell you just a little about the cavern. Blanchard Springs is located in Mountain View, Arkansas. The care given by visitors and the United States Forest Service has kept this cave a "living cave" one that is constantly changing and growing.
Living caves are ones in which slow metamorphosis due to minerals deposited by seeping and dripping water is still in process. The cave stays around 58 degrees year round with 100% humidity.
We were in the cathedral room which is 216 feet below the surface and is large enough to hold three football fields and still have space left over!
The cave formations include a 70-foot column, 55-foot draperies, and a natural bridge. You can see the column about 1/3 of the way from the left side of this photo.
I didn't think my heart could be any fuller, but I was wrong. In our worship service Sunday morning our church choir sang a beautiful cantata Love Transcending. We don't have a huge choir or an orchestra. We have a group of very talented singers who love to praise God with their voices. We did have a small percussion section for the cantata, chimes, a xylophone, piano, and organ. It was the perfect blend. The instruments enhanced the beautiful voices. The songs told the story of how love transcended to earth in the Christ child.
I will echo the words of our pastor after the contata,
"I am filled with unspeakable joy!"
May your heart be filled with joy this Christmas!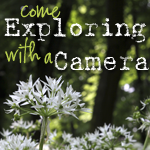 I'm linking this post with Kat's Exploring With A Camera. Our exploration this month was "The Lights of Night." It's actually darker than the night down in the cavern. They keep very low lighting to show the beauty of the creations. Stop by Kat's blog and see her great tutorials and photo examples of lights at night!